NCP Enterprise Client software sets new standards and integrates all technologies that contribute to achieving maximum security, universality, administrative control, and profitability (TCO), in remote access projects.
Stationary PC and mobile PC workstations are integrated as equal participants in the corporate network over public networks and beyond. Teleworkers work in their accustomed manner as they do at office workstations. All LAN applications and resources are available to them 1:1 on their remote PC.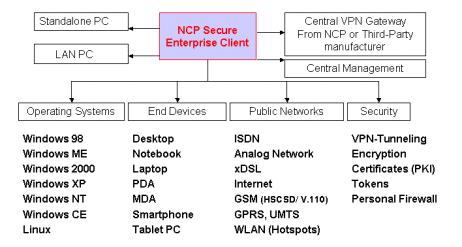 The software works on the principle of LAN emulation, i.e. the software appears to the PC operating system as a LAN adapter (virtual network adapter). Consequently it is possible to assign the remote client a private IP address from the central Secure Enterprise Gateway, (among other things). This private IP address can be assigned either permanently or variably (dynamically) from an address pool, as required. If needed the client can retain a one-time assigned IP address, even in manual connection mode, in spite of physical connection clearing. This means that the logical connection between remote client and central resource remains intact. Even accessing networks in different local area networks poses no problem, in spite of changing IP addresses. The remote user can always be identified with the same name in the corporate network, wherever he/she is located. Integration in a DDNS (Dynamic Domain Name Service-Protocol ) structure is also possible.

Optionally the connection to the central server and connection monitoring are automated unnoticed in the background of the user's activities.
The NCP Secure Enterprise Client can be universally implemented in any remote access environment. This means:

Independence from transmission medium (media type neutral)
Support of all major operating systems and a wide variety of end devices
Security and manageability because it is independent from Microsoft RAS
Communication with IPSec gateways, even from third-party manufacturers (compatibility)
Installation on standalone PCs and LAN PCs (even behind IP routers with IP-NAT)
Support of all security standards (transmission security and access security)
The various NCP Secure Enterprise Server comprise the other side of the remote access connection.


The different product variants are:

NCP Secure Enterprise VPN Client and
NCP Secure Enterprise VPN/PKI Client.

All products have an integrated Personal Firewall.


The NCP Secure Communications solution guarantees that a teleworkstation cannot be attacked from the Internet, nor from other LAN participants (at hotspots for instance), through the Personal Firewall, which comes standard with the product.

NCP Secure Enterprise Management offers a seamless range of functionality. Maximum transparency for network administration and minimization of total cost of ownership are guaranteed.

KARRIER
Új csapattagot keresünk presales és rendszermérnöki feladatok ellátására.

Jelentkezés: allas kukac safesoft.hu