DataLocker (IronKey) H200 Encrypted External Hard Drive
Carry up to 1TB of Data in a Tamper-Resistant, Hardware Encrypted, Biometric Hard Drive
The DataLocker (IronKey) H200 Biometric External Hard Drive offers two-factor authentication with strong password and/or biometric authentication to protect up to 1TB of sensitive data housed in a distinguished rugged metal design. The USB 2.0 portable hard drive delivers FIPS 140-2, level 3 hardware-based AES 256-bit encryption through a dedicated cryptographic processor, supports up to 10 secure user accounts, and features advanced management capabilities through the optional IronKey ACCESS Enterprise by DataLocker device management console.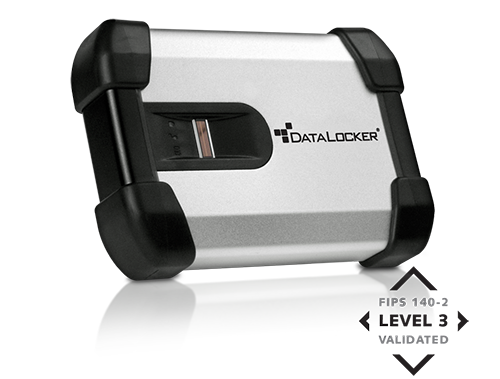 Securely store your data using biometric authentication.
PROTECT DATA WITH BIOMETRIC IDENTIFICATION AND MORE
An ergonomic finger- swipe for identification, combined with strong password authentication, challenges unauthorized users. And a high-strength aluminum enclosure resists physical break-ins and lets you recognize immediately any attempt to compromise the case.
MEET STRICT DATA SECURITY REQUIREMENTS
With the first USB external hard drive to be FIPS 140-2 Level 3 validated, you can be confident you're meeting regulatory requirements by deploying the highest level of encryption, powered by the on-board security processor.
STAND UP TO HIGH-SECURITY APPLICATIONS
AES-256 hardware encryption makes the IronKey H200 External Hard Drive perfect for storage of the most sensitive data.
LEAVE NO TRACE ON HOST SYSTEMS
All the software users need resides on the drive, making virtually any computer a potential host for mobile workers.
COLLABORATE SAFELY AND SECURELY WITH COLLEAGUES
Use SafeShare technology to allow users to collaborate using on-device data, but without compromising its security.
OPTIMIZE USABILITY WITH MULTI-LANGUAGE SUPPORT
Reduce help desk calls and streamline user experience with an intuitive user control panel available in nine languages.
OPTIONAL FEATURES
Antivirus protection. Shield user data and host systems from viruses, worms and other threats with the optional ACCESST Antivirus Scanner.
Technical specifications
| | |
| --- | --- |
| Capacity | 500GB, 1TB |
| Cryptographic Processes | 256 Bit AES CBC mode encryption, FIPS 140-2 Level 3 |
| Dimensions (L x W x D) | 124.6mm x 86.6mm x 26.8mm |
| Weight | Approx. 315gramm (varies by capacity) |
| Interface | USB 2.0 (1.1 compatible) |
| Standards & Certifications | TAA Compliant, RoHs Compliant, FCC, CE, WEE, KCC, Section 508 compliance- ensured accessibility to people with disabilities |
| COO | USA |
| SKUs | MXCB1B[XXX]FIPS |
| System Compatibility | XP SP3 +, Mac OS 10.5 - 10.11 (NOT COMPATIBLE WITH 10.12 SIERRA) |
| Languages | English, German, French, Spanish, Korean, Japanese, Simplified Chinese, Traditional Chinese |
| Warranty | 2 years |
| Authentication | Strong Password |
Manage IronKey H200 External Drives with IronKey ACCESS Enterprise management platform which allows you to broadly deploy USB devices and police their use.
Flexible policy enforcement: Active Directory integration lets you enforce policies both internally and over the Internet.
Tailored Environments: Tailor security policies and device behavior to different user needs. Adjust authentication policies - password complexity rules, biometric security levels, retry limits and more - to the needs of each group of users.
Advance reporting: Make it easier to meet audit and compliance requirements by logging and storing a complete history of administrative activities and security-related events for each device.
Streamlined device management: With optional ACCESS Enterprise Server, allow users to self-issue devices right at their desks while maintaining full adherence to predefined security policies. Then update policies at any time, even over the Internet.
Secure device communication: An industry first, the ACCESS Enterprise Server uses direct device communication through a NIST SP800-56A certified, authenticated secure channel. Unlike lesser server solutions that put the burden of policy translation on the device, IronKey's server directly applies policies to devices for true security and policy immunity to host-resident malware.
User self-rescue: With ACCESS Enterprise Server, ensure that devices remain accessible even if a user forgets their password or damages their fingerprint.
Device revocation: Prevent leakage by using ACCESS Enterprise Server to remotely block compromised, lost or stolen devices, or even erase data remotely.