DataLocker (IronKey) H350 Encrypted External Hard Drive

Rugged, Centrally Manageable USB 3.0 Drive Certified for FIPS 140-2 Level 3


DataLocker (IronKey) H350 BASIC

The DataLocker (IronKey) Basic H350 is FIPS 140-2 Level 3 certified to meet the highest security and performance needs of government agencies, military, healthcare, financial services and business organizations. Encased in a tamper resistant, high-strength aluminum enclosure, the drive features AES-XTS 256-bit hardware encryption, USB 3.0 performance and a Section 508 Compliant control panel localized into eight languages around the world. Basic drives can also be upgraded to Enterprise H350 hard drives.

DataLocker (IronKey) H350 ENTERPRISE*

Get all the same features as the H350 Basic plus on-premises or cloud-based centralized management to customize security policies and deploy and manage secure portable devices across networks and security environments with the DataLocker (IronKey) H350 Enterprise and IronKey EMS Cloud or the IronKey EMS On-Prem by DataLocker.

*Requires IronKey EMS Cloud or On-Prem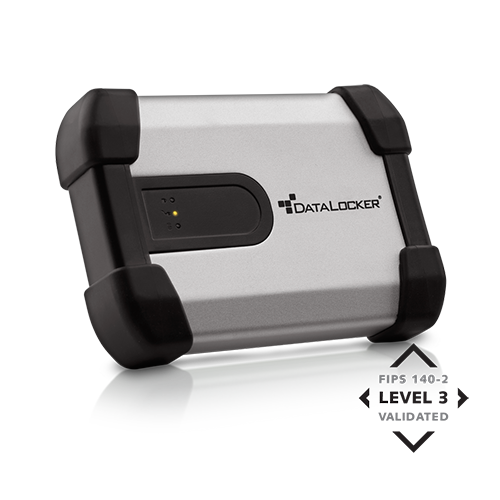 A true military-grade, enterprise-class mobile storage solution for government and business.
THE RIGHT SOLUTION FOR GOVERNMENT AND ENTERPRISE
Government agencies and contractors, healthcare organizations, financial services companies and other businesses can more easily comply with the lengthening list of data security mandates with encrypted DataLocker (IronKey) Enterprise H350 External Hard Drives. Centrally administered on-premises or via the cloud, these high-performance, high-capacity USB 3.0 drives are designed to meet virtually every requirement for security, performance and device management.
FIPS 140-2 LEVEL 3 CERTIFIED FROM END TO END
Safeguard and protect data, files and directories with a proven DataLocker drive featuring 256-bit AES XTS, the encryption standard developed by the U.S. government to meet strict military and intelligence requirements. Unlike most competing drives, DataLocker has earned end-to-end FIPS 140-2 Level 3 validation (certification #2826) for the entire H350 External Hard Drive – not just its encryption components- making it immune from attacks such as "BadUSB" or "Equation Group," which also target other components of the device. End to end, DataLocker has you (and your data) covered.
HIGH-PERFORMANCE ACCESS TO THE LARGEST DATA SETS
With DataLocker (IronKey) Enterprise H350 external hard drives, there's no reason to trade performance for security. Hardware-based encryption and USB 3.0, coupled with up to 2TB of room for even the largest data sets, means users won't have to wait for their drive to catch up to their workload. Our drives can also be formatted to NTFS to support storage for single files greater than 4GB.
CENTRALIZED MANAGEMENT FOR FAST AND EASY ADMINISTRATION
Rely on the IronKey™ Enterprise Management Server by DataLocker, the same system used to manage IronKey™ Enterprise flash drives, DataLocker (IronKey) Enterprise H300 hard drives and workspace devices, to administer thousands of IronKey Enterprise H350 hard drives and to enforce policies with a system housed internally and under your complete control. Or select DataLocker's secure cloud platform for fast and simple system set up and device activation.
CHOOSE THE CAPACITY THAT FITS YOUR NEEDS
Available in capacities of 500GB, 1TB or 2TB, DataLocker (IronKey) Enterprise H350 External Hard Drives can accommodate all your data, documents and applications.
ENSURE EASE-OF-USE WITH MULTI-LANGUAGE SUPPORT
An intuitive user control panel available in eight languages helps reduce help desk calls and streamlines the user experience for people all over the world.
SINGLE-CONSOLE MANAGEMENT OF IRONKEY DEVICES
With IronKey EMS by DataLocker single centralized on-premises or cloud-based management console, enterprise and government IT administrators can have visibility into their DataLocker (IronKey) Enterprise H350 and Enterprise H300 hard drives, IronKey Enterprise flash drives and IronKey Workspace W700, W700SC and W500 devices for Windows To Go. Securely recover access to user devices, force a device to be in read-only mode, recover passwords, remotely force password changes, and re-commission devices that are no longer in use. Administrators can even remotely wipe or disable lost or stolen drives.
RESET PASSWORDS WITHOUT LOSING DATA
Forgotten passwords no longer mean losing the contents of a drive (typical for all non-managed drives).
SIMPLY SECURE WITH DATALOCKER
Built with premium-quality components and shielded in a solid, tamper-resistant aluminum enclosure, DataLocker (IronKey) Enterprise H350 External Hard Drives are designed to survive years of wear and tear. A five-year warranty is included with each device so you know you are making a good investment.
OPTIONAL FEATURES
Antivirus and malware protection. Anti-Malware Service that constantly scans and monitors file transfers to the portable hard drive further protecting all on board files.
Technical specifications
| | |
| --- | --- |
| Capacity | 500GB, 1TB, 2TB |
| Cryptographic Processes | 256 Bit AES XTS mode encryption, FIPS 140-2 Level 3 |
| Dimensions (L x W x D) | 124.6mm x 86.6mm x 26.8mm |
| Weight | Approx. 315gramm (varies by capacity) |
| Interface | USB 3.0 (2.0 compatible) |
| Standards & Certifications | TAA Compliant, RoHs Compliant, FCC, CE, WEE, KCC, C-Tick, ICES-003, VCCI, BSMI, Section 508 compliance- ensured accessibility to people with disabilities |
| COO | USA |
| SKUs | MXKB1B[XXX]FIPS-[X] |
| System Compatibility | XP SP3 +, Mac OS 10.5 +, Linux 2.6 or higher |
| Languages | English, German, French, Spanish, Korean, Japanese, Simplified Chinese, Traditional Chinese |
| Warranty | 5 years |
| Management System | IronKey EMS |
| Authentication | Strong password |
Centrally Manage Drive Access and Usage
Centrally administer access and usage policies with the cloud-based or on premise IronKey Enterprise Management Service by DataLocker or IronKey EMS by DataLocker on-premise Server. Remotely disable or terminate lost or stolen USB drives – powerful options to prevent access to rogue devices. Enforce device-specific policies, including password strength and retry limits, onboard portable applications, and where devices are allowed to be used. Easily manage thousands of DataLocker (IronKey) Enterprise H300 devices and other IronKey Enterprise flash drives and secure workspace for Windows To Go. Use an intuitive, secure online interface to apply security policies to their organization's DataLocker (IronKey) Enterprise hard drives, flash drives and secure workspace devices. Users can easily self-provision their devices, or you can initialize the devices and deploy them to end users. Securely recover access to user devices and repurpose devices that are no longer in use.