SafeConsole
Instantly gain complete and granular control over all of your encrypted USB flash drives and portable hard drives with the SafeConsole central management server software:
Achieve compliance for USB storage usage, with full control and audit.
Keep the productivity benefits of USB storage devices – without the risks of malware, data leaks and breaches.
Available as an on-premise software or as a DataLocker hosted cloud service with worldwide locations.

SafeConsole Features Overview
Control
Enforce policies such as password rules, file-type restrictions or geographic boundaries. Reset passwords, switch endpoints into readonly mode, and even remotely wipe them in case of loss or theft.
Inventory
Monitor all your encrypted endpoints, including their location anywhere in the world. Integrate with Active Directory to track users, assigned devices and connected computers with ease.
Audit
See which files are saved to or deleted from your encrypted endpoints at any given moment. Use a complete audit trail by user, including connections, login failures, resets and loss reports.
Report
Analyze your SafeConsole Ready endpoints – see total connections, device inventory and geolocation chart in one glance. Third Party SIEM integration is available using Splunk or Graylog.
SafeConsole Benefits
A SafeConsoleReady secure USB drive can be managed by the SafeConsole central device management server software.
Unsecure USB Drives Spread Malware.
SafeConsoleReady secure USB drives fight malware.
Unsecure USB Drives are Data Leak Tools.
SafeConsoleReady secure USB drives are audited and can be remotely killed by the organization using SafeConsole.
Unsecure USB Drives Cause Data Breaches.
SafeConsoleReady hardware encrypted secure USB drives enforce protection of all stored data.
SafeConsole Anti-Malware Protection
SafeConsole Ready Devices are available with antivirus protection powered by McAfee. McAfee blocks viruses, ransomware, spyware, and any other malware threats and reports to SafeConsole when the viruses and malware are removed. With no installation required, anti-malware activation is available as an added feature with your current or new SafeConsole account.
SafeConsole Deployment Options
SafeConsole Cloud – SaaS hosted by DataLocker world-wide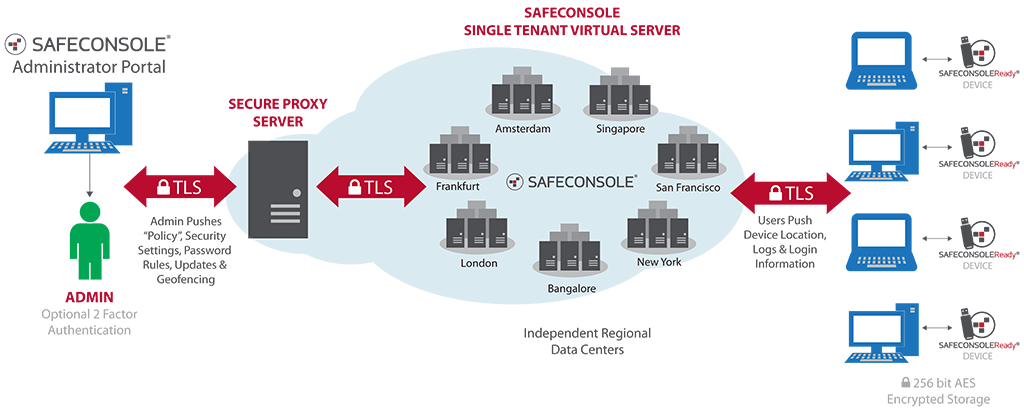 Why SafeConsole Cloud?

The SafeConsole Cloud (SCC) hosted service is the easiest and quickest way to get you organization managing and securing your encrypted endpoints.

SCC is a single tenant solution. Your custom cloud hosted service is dedicated to only your organization.
You can choose where to host your server, Amsterdam, Frankfurt, London, New York, San Francisco or Singapore to meet regulatory requirements.
All network traffic is encrypted.
Absolutely no client data is stored on the service.

PCI Compliance

For SafeConsole Cloud, our data centers have been certified by national and/or international security standards. Also, please note that SafeConsole Cloud is a single tenant solution, meaning that only your company's service is hosted that specific virtual server. Also, no actual data from the storage products is saved on the cloud. Only SafeConsole, the management console, is hosted on the cloud.

The New York facility is SSAE16 SOC-1 Type II certified.
The Amsterdam facility is ISO27001:2005 and ISO9001 certified.
The San Francisco facility is SSAE16 SOC-1 Type II certified.
The Singapore facility is ISO27001:2005 certified.
The London facility is ISO9001:2008, ISO27001, and SSAE16 / ISAE 3402 certified.
The Frankfurt facility is ISO9001:2008, ISO27001:2005, and ISO22301:2012 certified.
The Toronto facility will be SSAE16 SOC-1 and SOC-2 compliant in December, 2015.
SafeConsole On-Prem – installed on your own Windows server
SafeConsole On-Prem is easy to deploy if your organization requires an on-premise or hybrid cloud solution:

Requires a dedicated Windows-based server
Log in and manage from anywhere
Administrators can authenticate to access SafeConsole with their AD credentials.
Ideal for deployments of 300+ endpoints

Minimum Requirements


Pentium Quad Core or higher class system
2GHz or faster CPU minimum
Windows Server 2003, 2008, 2012 or 2016.
4GB of free RAM
20GB of free hard disk space required
SafeConsole Features & Resources
Password Management
Remote Password Reset
Reset passwords remotely over any channel. Administrators can get remote offline users back to work within minutes, without any loss of stored data. The short 8-character recovery codes are easily read over the phone yet maintaining the robust security of a 128-character code using a pre-buffer method. No data is lost and the process is protected against social engineering directed against the helpdesk. The user password is never exposed and there is NO master password.
Password Policy
Ensure that all data is protected by strong, compliant passwords by enforcing password policies on the devices.
Compliance
Device Auditing – See Who Did What, When and Where
Device auditing makes taking stock of the entire portfolio of SafeConsoleReady devices easy as it creates an automatic inventory list. The logs then include unsuccessful unlocking attempts, device states and log-ins. This gives the administrator a full overview of all drives in use in the organization.
Detailed File Auditing – Achieve Compliance Requirements
Detailed File Auditing is an extension of the Device Audit. It allows an administrator to see what files have been copied to or deleted from the devices, as well as a trail of the files that have had their names changed.
Device State Management – Full Control Over Devices
As an extra security precaution when drives are lost, or to protect your organization's sensitive information from access by former employees, you can remotely 'kill' rogue drives and erase them of all data. In the Device Overview in SafeConsole, an authorized administrator can set the device state to 'killed', 'disabled' and 'lost'. Devices can later be recovered using the Remote Password Reset and/or Backup features. SafeConsole can also be set to handle the devices' states entirely on autopilot. This will require the drives to return to base by connecting to the SafeConsole server within a configurable time period.
Device Protection
Inactivity Lock – Forgotten Drives Lock Down
Lock down a secure USB drive after a configurable period of inactivity. Forgotten drives that are left behind in a computer will automatically lock down according to the set policy.
File Restrictor – Restrict File Types to be Stored EXE, MP3
A white-list approach prevents the storage of unauthorized file-types. Rogue files cannot reside on a SafeConsoleReady Device as it only allows storage of file-types specified by the administrator in the SafeConsole settings.
Authorized Autorun – Stop Autorun Viruses
The onboard autorun-protection that chokes self-copying viruses such as StuxNet and Conficker – by denying unauthorized autorun files from residing on the drive altogether.
Write Protection – Set Devices in Read-Only Mode
With Write Protection, users can set their drive in a read-only mode when unlocking it on non trusted machines and thereby gain protection from malware trying to infect the drive or its content. It is also possible for an administrator to enforce this protection when a user leaves the company network ensuring that no malware can be copied to the drives and brought back to the company.
Geolocation and Geofencing
Using IP-based location tracking, pinpoint the exact location of your encrypted endpoints anywhere in the world. With SafeConsole, you can also geofence your devices making them accessible only within specific geographic boundaries.
Administrator Tools
Authorized Autorun – Stop Autorun Viruses
To prevent the spread of autorun malware, SafeConsoleReady devices overwrite the autorun.inf files stored on the encrypted storage volume, choking the effect of viruses such as Conficker. Specify trusted commands to enable authorized applications to autorun off the devices, allowing you to keep the benefits and convenience of autostarting working-tools while blocking gateways for malware infection.
Device User Information
Save time and pain – customize devices with user information for easy identification and secure lost and found.
By defining "token" questions, SafeConsole administrators can ask device users to enter unique information about themselves. The "token" information allows the administrator to create a custom message about the user under the About window to easily identify lost devices without requiring permission to unlock the drive.
Autostart applications that require a password to start can also make use of "token" information by assigning a token as a necessary password. This allows the application to launch without interruption.
The information is collected to the server and can be used to sort and search users and their devices.
Device User Settings
Configure device settings to tailor the SafeConsoleReady device to your needs (e.g. disallow users from factory-resetting their devices). It is also possible to enforce a user interface language and pre-approve the device warranty for quicker device deployment.
ZoneBuilder
ZoneBuilder is a tool to create a "trusted zone" of computers that makes using your SafeConsole managed devices even more Simply Secure.
WITHIN YOUR TRUSTED ZONE YOU CAN
RESTRICT device access to computers inside your Trusted Zone.
AUTO-UNLOCK your storage device eliminating the need to enter your password. It makes sharing files within your Trusted Zone quick and easy. This feature uses RSA client certificates for authentication.
SafeConsoleReady Devices



DataLocker – SafeStick

SKUs : SS0[04-16]M
DataLocker – DL3
SKUs : DL[xxxx]V3
DataLocker – Sentry3FIPS
SKUs : SENTRY[04-64]F



Kingston Digital

DataTraveler Vault Privacy 3.0 – FIPS197
SKUs : DTVP30DM/4GB, DTVP30DM/8GB, DTVP30DM/16GB, DTVP30DM/32GB, DTVP30DM/64GB
DataTraveler 4000 G2 – FIPS 140-2 level 3
SKUs : DT4000G2DM/4GB, DT4000G2DM/8GB, DT4000G2DM/16GB, DT4000G2DM/32GB, DT4000G2DM/64GB



Cardware

SafeToGo secure USB flash drives
English and French language support
SKUs : STG-4GB-E, STG-8GB-E, STG-16GB-E, STG-32GB-E, STG-64GB-E
German language support
SKUs : STG-4GB-G, STG-8GB-E, STG-16GB-E, STG-32GB-E, STG-64GB-E